Classes offered by Satisfice, Inc.
2017
Make sure to try out the ONLINE Course... Rapid Software Testing Applied Online
I teach four classes and also do many different talks.
The world of software testing is undergoing profound change in many areas of the industry. Companies may think testing slows down projects, so testing needs to be "automated" to provide faster time-to-market. They may have heard that certain famous companies "don't have testers" because "developers do the testing", or even think users may overlook or forgive bugs anyway.
Meanwhile, many testers have little training and the commercial certifications available for testers are laughable, so there is confusion even among testers about what good testing means. In some companies, testing as a defined role is going away. In other companies, testers are taking on new responsibilities.
If you are a serious career tester, you need to figure out where you stand and what to do about it.
This class is dedicated to helping testers and test teams reinvent themselves and their role in development. It is taught from two perspectives: James is a long-time independent testing consultant and trainer. Jon is a former tester who applies his testing skills and experience at eBay in a role he reinvented to emphasize the results from testing.
Reinvention does not necessarily mean transformation. It means achieving deep understanding and ownership over your practices and motivations. It means knowing why you do what you do, and being able to explain it to others. The instructors take a context-driven approach to testing, which treats the subject as a fluid human craft involving skill and problem-solving rather than as a set of fixed practices or tools.
The class involves practical exercises and Socratic discussion. We recommend that you bring a laptop computer (Windows or Mac), but this is not absolutely necessary.
This seminar teaches the Rapid Software Testing™ methodology in an interactive, Socratic way. We introduce you to the deep skills of finding important bugs fast, while being able to explain and defend your work. This form of testing is compatible with both an agile and non-agile development process. It is our most popular class. It is usually taught in three-days, although we also do an abbreviated version in two-days and sometimes a longer version that incorporates more practice or elements of other seminars.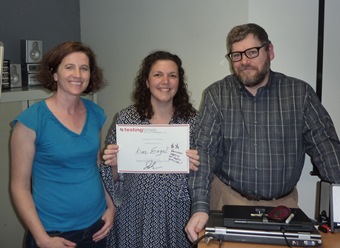 James at the RST Class in Sydney, Australia, June 2014
Pictured (left to right) Anne-Marie Charrett, Kim Engel, and James Bach
This on-line or onsite seminar applies Rapid Software Testing™ methodology to testing a specific product. It can be taken before or after the other classes. Some students have found this to be a useful prequel to RST; others have said it's a good follow-on.
Rapid Software Testing™ Management

(RSTM)
This seminar is a one or two-day follow-on to RST that is aimed specifically at people who will manage rapid testers. RST is a strict pre-requisite.
Session and Thread-Based Test Management (SBTM)
This one or two-day seminar focuses on how to use the techniques of Session-based Test Management (SBTM) and Thread-based Test Management (TBTM). RST is not required before taking this class.
---